Slow Pokes Brisket Shack
Cruising down FM 1626 through Manchaca, TX there is a chance you've blown by this establishment speckled with classic cars, picnic tables and a giant smoker at the center. Slow Pokes unites the bike, hot rod and BBQ enthusiasts in community through the shared love of live blues, cold beer and quality brisket on this historic lot. With the entrance to Slow Pokes boldly stated with a classic '58 Rambler as the marquee, you quickly get the vibe of this South Austin gem. Pull in and you're instantly embraced by the sweet, sweet smell of a rich brisket smoke blanket straight from the heavens above.
Family Business
This is a family run establishment, where Josh and Sarah Rodriguez are busting their tailbones in the heat every day that meat is smoking. Sundays are their only off days. Come up here on a weekday night and you'll see the Rodriguez children Jude, Buddy and Scout taking turns herding two cats in and out of the old cars that adorn this place.
Their youngest child, Scout, domesticated these strays using a piece of brisket, a touch of patience and what I would assume to be the pure stubborn grit of a 5 year old rough-and-tumble girl. Something I know too much about, having one of my own. If you're lucky you can catch a beloved local Austin favorite like Guy and Jeska Forsyth up here on a Tuesday night, harmonizing as they would if perched on their own front porch, their daughters dancing around on the grass before the stage.
From Hot Rods To South Austin BBQ Haven
Josh Rodriquez is one of those rare native Austinites, born and raised in South Austin. Prior to opening Slow Pokes Brisket Shack, he owned Rodriguez Rod and Cycle where he did custom paint jobs on motorcycles and race cars.
Josh says he's been painting cars since he was 13 years old. Prior to Slow Pokes, Josh and his shop were featured on a Discovery Channel series called 'Texas Car Wars'. He didn't leave his love of hot rods behind, as you'll see once you make it up here. The entire outdoor area, from the bar to the stage to the Brisket Shack, is made by Josh's own hand. He went from building cars to building a family friendly BBQ playground that satisfies all ages. From what it seems, Josh hits every challenge head on and without hesitation.
From The Beginning
Me:  How did you come up with the name?
Josh:  I named it after a character off of the old Looney Toons Cartoons. Speedy Gonzalez had a cousin named Slowpoke Rodriguez. I used to paint that character on race cars as a joke. (Slowpoke is the antithetical character to Speedy Gonzalez, known as the 'Slowest Mouse in all of Mexico')
Me:  How did you get into the business of BBQ?
Josh:  It got really hot one day working on cars in the shop. Driving by, I saw a sign for lease on this land. The lot had been empty for 50 years and there was no septic. Just an empty lot with some history. I had a trailer that I used for events, car shows. And I had a car that I decided to sell for 7K. And that's where it all started.
I had experience from watching my grandfather, and my father, who had BBQ joints out near Taylor, TX. BBQ is something that has run in my family. But I've taken that experience and done my own thing here.
Community and the Old Austin Culture
Me:  What can you tell me about this distinct atmosphere you've created with the cars and the antiques everywhere?
Josh:  When I had my hot rod shop it was a big building, had every inch covered with this stuff. A lot of stuff I would go find in barns or at swap meets. The community and clientele started adding to it. Everyone gets to leave their mark here.
Me:   Do you see Manchaca growing into a haven of sorts for people who miss 'old Austin'?
Josh:   Yeah, I kind of see it as the last frontier. Last standing. Feels like Manchaca is preserving and growing the feeling of the Old South Austin culture. This land is a historic site. Below those old oak trees where that stage is located, people have been singing hymns since the 1870s. This was the site of a black Baptist Church that stood until the 1950's. People have been making music here for a long time, and now we continue to do so.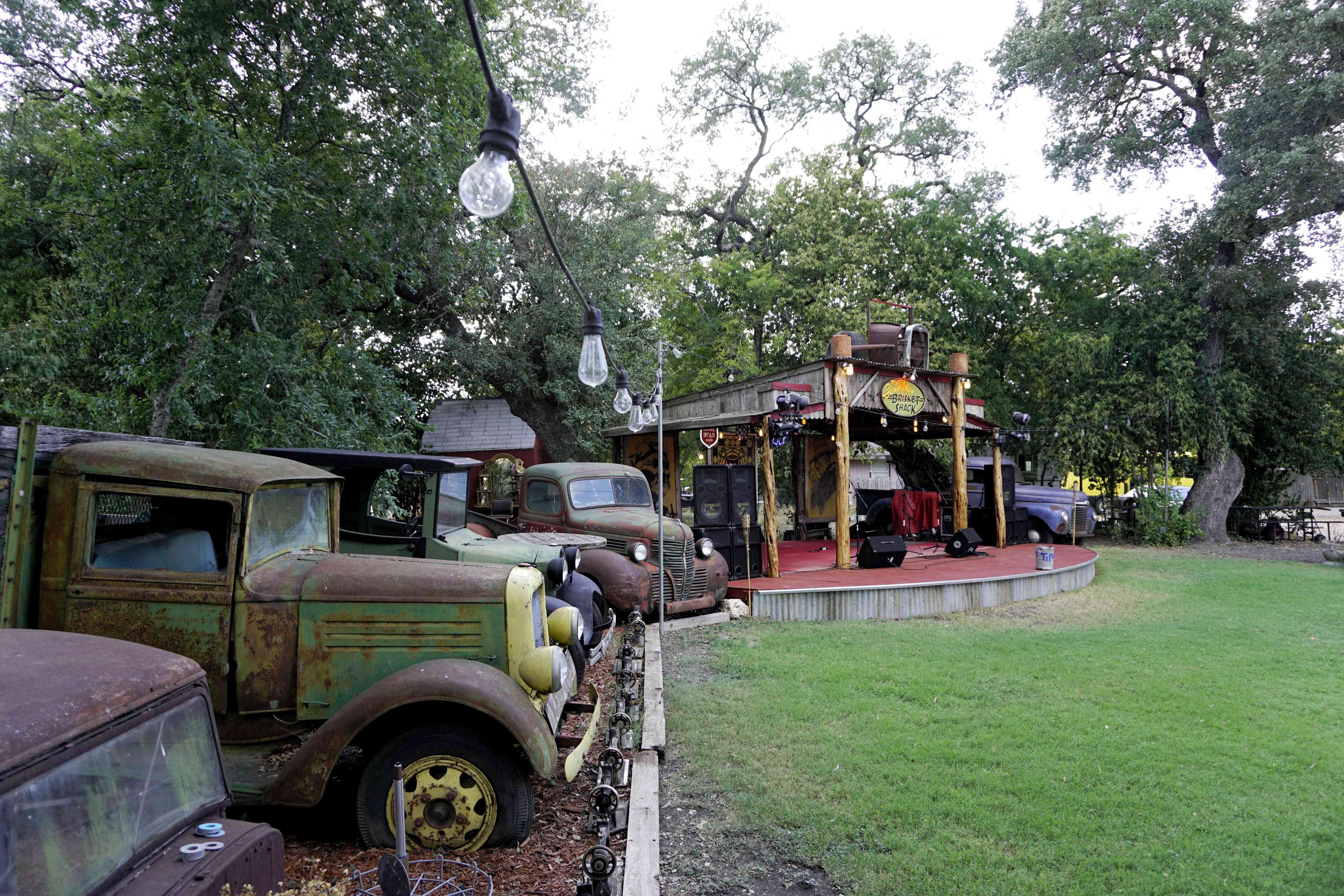 Me:  What can we look forward to as Fall descends upon us here at Slow Pokes?
Josh:   More music throughout the weeknights. Right now we're a venue Tuesdays, Wednesdays and Thursdays. But I'd like this to grow and expand to other nights of the week.
Preserving What We Had
Slow Pokes Brisket Shack is exactly what I picture when my heart swells about my home Austin, TX. It falls in line with all of the reasons I never left once I graduated UT. It's the reason I fell hard for this city. And even though we can all agree the town is growing up, like Peter Pan leaving Neverland to become a big boring adult, there are still pieces of what it was being preserved in these spaces. You just have to look for them, frequent them and keep them alive through your frequent patronage.
By the way, I recommend the Brisket Plate, where you get a hearty serving of brisket, potato salad, beans and sausage. All the things. You get all the things. On one plate.