Getting to know my community continues to be one of the major perks I enjoy as a Realtor. This blog allows me to share conversations I've had with local business owners and individuals regarding their desired impact on the community and their hopes for the city.
Hive of Independent Business Owners
I discovered a hidden gem last week.  My appointment with Amber Smith, owner of Body Basics Massage had me wandering the halls of  SOLA Salon Studios in Southpark Meadows. Walking past each individual studio, the energetic buzz in this hive of smiling, independent business owners was infectious. What a joyous checkerboard of hair stylists, nail, lash technicians and in the back, a massage studio. Reaching the last hallway, emerging from an array of cosmetology choice, your journey's end takes you to the door of Body Basics Massage.
As an independent business owner myself, I have a soft spot for my fellow entrepreneurial soloists. It's not enough to just show up day to day. You can make as much as you want, or as little. Pay is 100% performance based. Sick and vacation days are costly, but the freedom of knowing that success is unlimited is the fuel that keeps us going.
Truly small businesses are the key to every city's unique profile. Tucked between sterile chain brands lie a city's true finger print in the form of a person with a passion. In this article we meet Amber Smith to hear how she started her South Austin business Body Basics Massage.
The X-rays, The Bones, and Investigating The Biology of The Human Body
Me: Where did you grow up?
Amber: I was born in Dallas, TX. As a child I was always fascinated by the mechanics of our bodies and how the muscles interact with the joints. The only way I thought I could pursue this interest was to become a doctor or a nurse.
On career day I followed a radiologist around to see the job firsthand. The radiologist said, 'If you ever want to have a social life, GOOD GOD do not go into this field'. At 14 years old, those were powerful words. But I loved the x-rays, the bones, and investigating the biology of the human body.
Me: Did you have a different profession before Massage Therapy?
Amber: I was a loan officer at the age of 18 in a big skyrise, still living in Dallas. The company I worked for was closed down due to a money laundering investigation not long after I started working there. But I always noticed that the owner's wife was infectiously happy at all times. She was always in a great mood. Constantly fabulous and working as a massage therapist. Always telling me how much she loved her job. That's when I decided to jump into the profession myself. I moved to Austin in 2003 for massage therapy school and for the abundant opportunities to succeed in the business.
New Beginnings
Amber: I attended A New Beginning: School of Massage. This school is great and the teaching opportunities and internships were very intensive. This really overprepared me for the State Board Exam as well as every scenario I might come across in my practice. The teachers at New Beginnings are also extremely patient, involved and kind.
Me: Is there anyone in particular that played a role in the success of your business?
Amber:  There are two people: My husband Jose and my mentor Kristi. She taught me so much about patience, healthy eating habits, client relationships, and a variety of elevated massage techniques. Kristi has great compassion and understanding for the people around her. She is an empath and understands the need for family and work life balance. I could not have had a more perfect mentor.
South Austin: A Place Where You Feel Loved
Me: When you branched out on your own, was it difficult finding the right location?
Amber: It wasn't hard to find the location but it was really hard to wait. I had to be on a year long waiting list before I could apply. A lot of businesses who lease from here don't leave. There are a lot of really cool, empowered business owners located at SOLA. In my opinion, South Austin is the heart of Texas. I bought my home here, I run my business here, and my kids went to school here. I will never leave South Austin. When you find a place where you feel loved, you stay.
Me: Do you use other local vendors to create your space or client experience?
Amber:  The owner of Articulture, Monique, is making me a living art piece out of succulents for my studio. If you've never been to Articulture you must check it out!
Me:  Can everyone benefit from the services you provide?
Amber:  Yes, absolutely. Everyone can benefit from massage, whether it's deep tissue, neuromuscular therapy, pressure point, or basic Swedish massage. Most of my current clients are self-aware and proactive in maintaining and managing a regiment of muscular preventative care.
Me:  Can you give an example of a transformation you have witnessed after several sessions with you?
Amber: One of my clients suffered from Scoliosis which caused an S curve in her spine. The Scoliosis was causing her muscles to pull towards her right side. Because of this, I worked on her left side. After four years of consistent therapy, I can see that she's going back to the gym. She's improving in her career, and she's unlocking untapped potential with her increased mobility.
A Body In Motion Tends To Stay In Motion – Isaac Newton
Me: Do you have any advice for people who want to integrate healthy behaviors into their daily lives?
Amber: As the saying goes 'A body in motion tends to stay in motion'. I think it's important to know that any movement is good movement. If you're physically stagnant in your career, get up every 30 minutes, walk around to increase your blood flow and mobility. At home have fun practicing yoga and stretching. Always remember good posture, not only with your shoulders and neck, but with the lower posterior as well.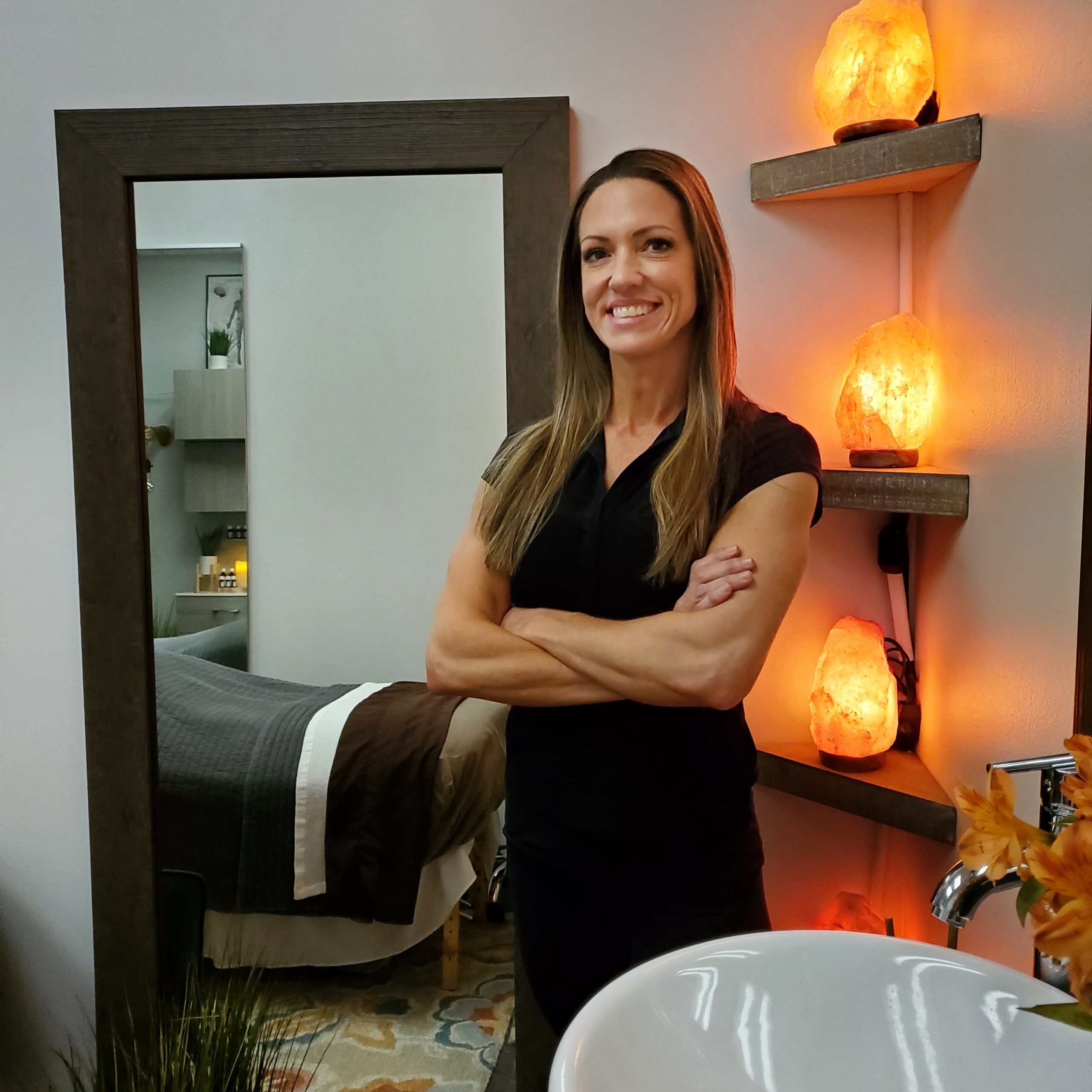 Eating a clean diet, with fruits and vegetables, and increasing water intake will remove any sluggish feelings and increase your energy levels. You can incorporate certain spices that help with ailments and inflammation such as turmeric and ginger. I'm a big believer in essential oils such as eucalyptus which can help with arthritic joints.
Me: Are there any false beliefs that people have about massage therapy that you would like to clear up?
Amber:  A big misconception about massage is that problematic or injured muscles can be healed in one session. In reality, a series of massages are often required to achieve the goal. The layered muscle fibers can be broken down gently over time. Another misconception is that there is only one type of massage- a PAINFUL one! There are a wide variety of relaxing, therapeutic massages to choose from… if you go to the right therapist.
Are You Ready To Book Your Massage?
To book a massage with Amber, you can click here:  Body Basics Massage Studio BOOKING
Have you thought about Father's Day which is just around the corner? This may be the PERFECT gift!
Follow Amber on Instagram: https://www.instagram.com/bodybasicsmassage/
If you know of a local Austin business that I should highlight, please let me know! I love providing Austin-native references to my relocation clients! You can email me at Heidi@JBGoodwin.com.
A Shout Out To Amber's Favorite Places
Favorite Restaurant: Kirby Lane Cafe because you can eat breakfast for dinner.
Favorite Bar: Moontower Saloon, because I love Trivia Night.
Favorite Gym: CrossFit SoChac because it goes back to the whole South Austin vibe. It's about the encouragement and the friendships I've formed.
Favorite Natural Area or Park: Mary Moore Searight Park because you can disk golf, fly RC planes and picnic. I go there at least once a week to hike. I take my kids out there to have some 'talk time'. They're teens so we need to have that time.