Getting to know my community continues to be one of the major perks I enjoy as a Realtor. This blog allows me to share conversations I've had with local business owners and individuals regarding their desired impact on the community and their hopes for the city.
The Sweetest Job In The Whole Wide World
I met Jack Bessudo, owner of Sugarox Candy Studio, while attending a class at CrossFit SoChac. One day we partnered on a workout and I asked him what he did professionally. He said he made candy. My response was of pure awe… "STOP… you make CANDY for a living?" This sounds like the sweetest (pun definitely intended) job in the whole wide world! And it makes sense, because when you meet Jack, you are greeted with a warm smile and a big heart.
The following week, Jack brought me some of his candy creations. The bag was labeled Tamalitoz. According to his website, a customer of his, early on, noticed the shape of the candy and noted that they looked tiny little candy tamales. Or in spanish, "tamalitos". Jack's husband, Declan, then suggested the name "Tamalitoz" with a "Z", and so it was born. Each piece is comprised of a hard candy shell, and inside each candy has a pocket of a chili, lime and sea salt.
This candy has big flavors, and names to suite, such as Peach Slapped, Lip Smacking Mango, and Bite Me Blood Orange. Before I knew it, Tamalitoz was a household staple in my pantry. This addictive, salty, sweet, sour Mexican candy is perfectly complex yet balanced. Here's a little bit about South Austinite Jack Bessudo and his confectionery journey into the creation of Sugarox Candy Studio USA.
International Beginnings
Me: Where did you grow up?
Jack:  I grew up between Houston and Mexico City. At the time, my dad was in his 20's, working at a soft drink company started by his father in Mexico. My father and grandfather didn't see eye-to-eye, so my father went out on his own. He joined his cousin in Houston to do real estate development. This was 1978, and little did they know they were heading towards a downturn in the market.
My dad struggled to find his way in that market, and although he tried to get by at a car dealership, he eventually took us back to Mexico. It was very hard on me. I had moved to Houston at age 3, then swiftly moved back to Mexico at age 13 without any notice or say. Being 13 is already hard enough.
Journey Back To Mexico
Me:  What was it like returning to Mexico?
Jack:  When I moved back to Mexico, I hated it. I could not understand the chaos. The streets looked different from what I was used to in Houston. Everything smelled different. Social relationships were different.
It took some getting used to, but I acclimated. It felt like my life was over, because I was a teenager. But that soon passed. Then I started assimilating again. My Spanish was pretty awful. I had a very heavy American accent. And the kids used to tease me for it.
Me:  What did you want to be when you were a kid?
Jack:  When I was a kid, an uncle asked me what I wanted to be when I grew up. I answered "The world's Number One Roller Coaster Rider". He still reminds me of this my whole life!'
Finding Joy By Bringing Joy
Me:  What was your first career?
Jack:  My first job out of college was at an advertising agency. I have a degree in communications. Advertising always seemed like it would be fun. I also had a connection, a friend's dad who was an executive at a big multinational ad agency. He told me that if I ever wanted to get into the field, to look for him. And I did.
Working in advertising exposes you to a lot of clients in different industries. Every day was different. The challenges were always shifting, one day working with a car company, next day with a chocolate company, next day a bank. It really keeps you on your toes. You have to be a big sponge to absorb a ton of information in order to help your client grow their brand.
After years of working 12 to 13 hours a day, convincing people of one thing or another, I decided I'd rather do something that brought me and others joy. So one day, I decided I was going to find something that let me use my skills in creating brands, but for myself. That is how I started my candy business.
Partners For Life
Me:  How did you meet your husband Declan?
Jack:  I met Declan through a mutual friend. I was going to London on a business trip, and my friend told me I should reach out to him while I was in in town. Before my trip, we started chatting on Facebook. But my trip got canceled. So Declan decided to come to Mexico. This was when I was still brainstorming the candy business. He visited for 10 days, which led to a long distance relationship.
After 15 months, Declan moved to Mexico. Soon we were married. Our wedding was going to be small, intimate. But my mom started sharing the news, and before I knew it, my parents were planning the whole thing, haha.
Sweet Discoveries in Sidney
Me:  Where did you first get the idea for your business?
Jack:  While working in advertising, one of my clients was Johnson and Johnson. The agency was having a global business review. It was being held in Sidney. I ended up visiting a candy shop there called 'Sticky'. Seeing how the candy was made, the production, to the shop, it inspired me to do something similar. I hired a great candy maker, Damian Brewer, to teach me how to make candy like I had seen on my trip to Sidney. He was in Mexico showing me the ropes for 2 months until we took off on our own. We opened a brick and mortar called Sugarox Candy Studio in Mexico.'
Surviving The Shutdown
Me:  When did you come back to the US?
Jack:  I moved back in November 2019. We got to Austin November 1st, wide eyed, bushy tailed, so happy that we were finally in a position that our Tamalitoz had gained enough traction. That Declan and I could move here to operate the business. Little did we know that we were just a couple of months away from a shutdown!
We thought we could operate the business remotely. But it wasn't as easy as we thought. Then Mexico went into lockdown. We had to close the stores for 6 months, paying salaries during this time so that we didn't let down our staff. But eventually we have to close our stores in Mexico. We couldn't keep paying salaries without any income coming in. It was a very hard decision for us.
We weathered the storm, and eventually Sugarox USA gained momentum again. It turns out that in times of crisis, people look for comfort in the little things. And that includes CANDY.
Home Sweet Home
Me:  What made you decide to make Austin, TX your home?
Jack:  I always loved Austin. Growing up in Houston, we came a couple of times with friends and family. Then also on school trips. Later I would notice that Austin was always topping the lists of 'Best Places To Live' and 'Coolest Cities' in the USA. So when we decided to move to Texas we just knew it has to be Austin.'
Where To Find Tamalitoz Candy
Me:  Which stores carry your candy?
Jack:  We are on shelves at HEB, Michael's, Los Olivos Market in Buda and Wimberley, Royal Blue Grocery, and Big Top.  HEB was on our radar from day one. We were persistent enough, and finally we were able to meet the buyer for HEB. She said to us 'When y'all are ready, and have your business set up here in Texas, you let me know'. As soon as we were set to launch in the US, they let us roll Tamalitoz out, little by little. We started delivering to our local HEB in Circle C which was close to where we lived then.
A Shout Out To Jack's Favorite Places
Favorite Restaurants: There are so many South Austin businesses that we love. We adore Loro on South Lamar. Bluefin Sushi Bar and Ramen on Brodie makes really great Ramen.  IM Thai in Buda makes great Thai takeout. Tarka is our place for Indian. And Gabriella's in South Park Meadows is also a spot to check out
Favorite Bar: If you're looking for cider, we always recommend Texas Keeper in Manchaca. Of course there's the whole line of bars down Menchaca Rd. such as Lustre Pearl, Armadillo Den and Moontower
Favorite Gym: CrossFit SoChac
Favorite Natural Area or Park: Mary Moore Searight Park is a great place to walk the pups!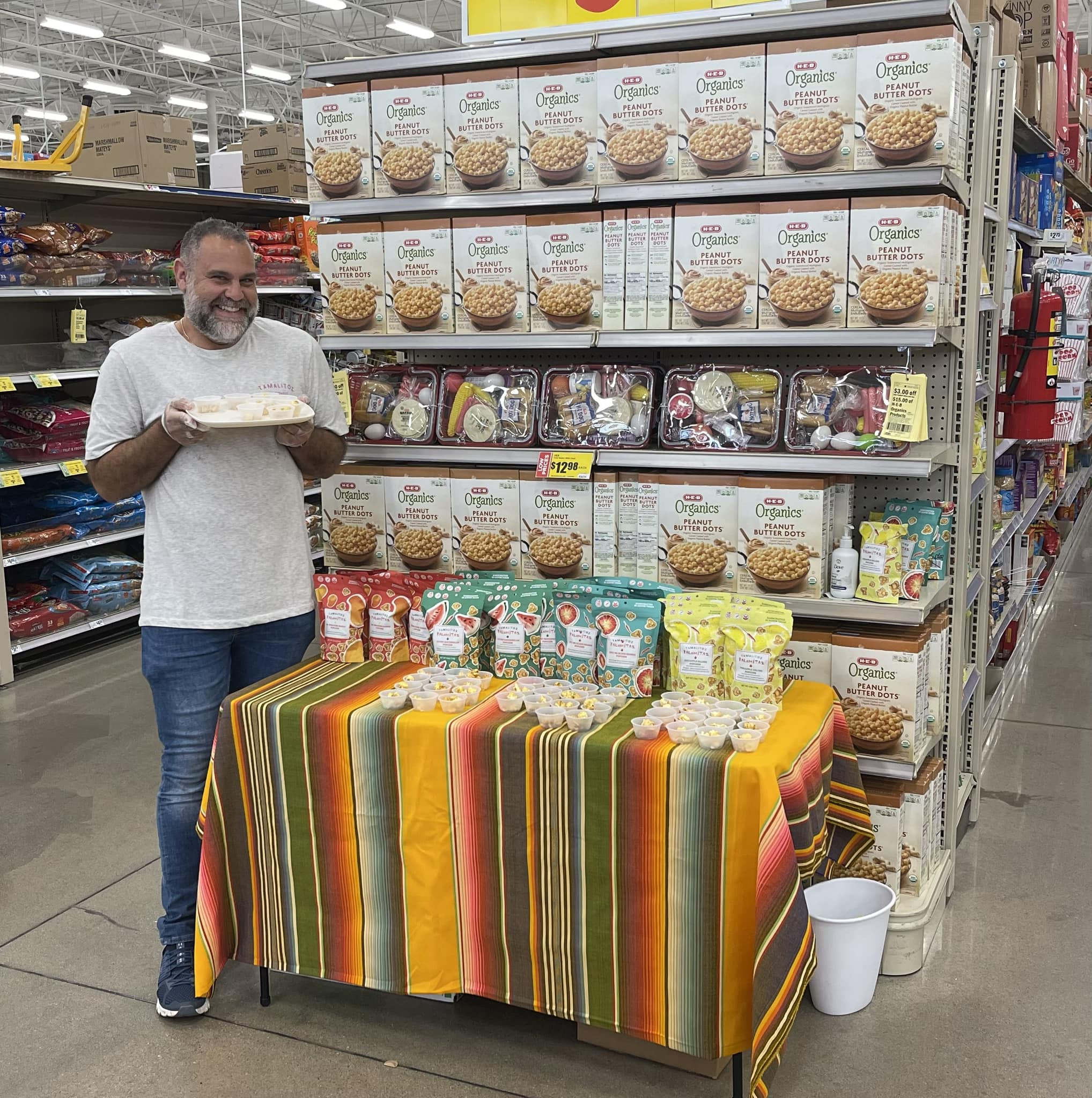 Look For Jack's Candy
Jack is a hands-on business owner. Look for him at your local HEB. You may find him handing out samples of his candy and chatting it up with the customers. Support your local economy by buying Tamalitoz. Even the printer that he uses is a local Austin company. Every bag you buy supports a real person, just pursuing his dream to find joy for himself by creating joy for others.
Follow Sugarox Candy Studio USA
https://www.facebook.com/Tamalitoz